We have to agree that calling your body shape a piece of fruit is a bit strange, however if you have a pear shaped body you tend to have smaller shoulders, bust and waist in comparison to your hips and rear. If that thought is still not ideal feel free to swap out calling it a pear shape to a triangle body shape and get ready to embrace your gorgeous curves! Pear shape bodies look amazing in every pair of jeans imaginable and due to narrower shoulders, sweet feminine tops look even daintier on triangle shaped bodies.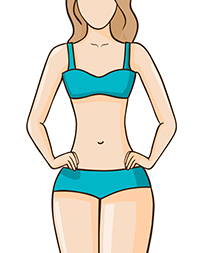 Your waist is wider than your bust.

The lower half of your body includes fuller hips and/or thighs

The top half of your body, specifically your shoulders are narrower then your hips.

Your legs are likely muscular.

You consider yourself to have a fuller rear.

When you gain weight it tends to show on the lower tummy area, hips and thighs.
GUIDELINES FOR HOW TO DRESS A PEAR SHAPED BODY
The trick to dressing a pear or triangle shape is to accentuate the proportions of your entire body to create an elongated silhouette. Pear body shapes look amazing in statement dresses that keep eyes upward and you want to look for styles that highlight the back, waist and neck. A pro tip is dramatic accessories like statement earrings and necklaces are your secret weapon! If you are on the curvy side, this is even more true. Fall in love with your power pieces and accentuate your curves!
GUIDELINES TO EMBRACE YOUR PEAR SHAPE
1. Must Have Tops For Pear Shapes
Look your best when you draw attention to your slender waist and fitted or structured tops will also bring definition to your narrow shoulders.
Cowl Necklines

Bell Sleeves

A plunging v-neckline in any silhouette

Scoop Necklines
2. Perfect Dresses For Pear Shapes
Options, options, options..... there are so many power piece options when you have a pear shaped body. Open back or backless dress styles, dramantic sleeves, embelishelled necklines or plunging necklines or belted styles will enhance your more narrow upper body. Skater style dresses and a-line dresses also enhance your curves and create the illusion of a longer body shape. Discover midi dresses and maxi dresses where the hemline falls below the knees which slenderizes your thighs and hips.
3. Don't Forget The Accessories
There are few body shapes that can truly get away with rocking chunky or statement outfit toppers, but with a pear shaped body, bigger is better! Don't be afraid to get out of your comfort zone when it comes to accessories. Whether you are looking at a wide brimmed hat or chunky layered necklaces, the answer is always yes, yes, yes!!
4. Highlight The Upper Body
Bring attention to your upper body by wearing bright colors.

Accentuate your waist by wearing fitted clothes.

Avoid boxy tops that hide your waist.

Draw eyes to your upper body by layering your top half.
5. Downplay Your Lower Body
Keep your lower body clear of embellished bottoms draw attention to it.

Avoid tight bottoms and skinny jeans that draw attention to your waist.

Wear dark colors on your lower body.
---
STYLE TIPS FOR ATHLETIC SHAPED BODY
Low v-neck dresses and plunging necklines are a favorite among those with pear shaped bodies as it draws attention to your slender neck and narrower shoulders. Choose longer hemlines, midi and maxi lengths to further elongate your silhouette!
A shift dress style is a looser fit on the bodice then a sheath dress, all while still being fitted to capture your silhouette and skimming just over your hips.
Backless style dresses go from all business in the back to a party in the back designed to show off your back. Low back dresses and open back dresses are generally worn for more formal occasions or as evening wear. Choose a backless frock that accentuates at the waist to accent a narrower waistline.
A flowy dress is perfect for a pear shaped body as it camouflages everything underneath. This style is fabulous as it accentuates your whole upper body and showcases your arms making you appear leaner and taller at the same time.
Skater dresses could not be more perfectly made for pear shaped bodies. The style of the dress will fall perfectly over your curvaceous hips while the fitted bodice draws attention to your top half.
~~~~~~~~~~~~~~~~~~~~~~~~~~~~~~~~~~~~~~~~~~~~~~~~~~~~~~~~~~~~~~~~~~~~~~~~~~~~~~~~~~~~~~~~~~~~~~~~~~~~~~~~~~~~~~~~~
Remember: Everyone and every body is different and unique. Your uniqueness is what makes you beautiful and we want you to fall in love the styles that you choose. These guidelines are only a starting point. Mix and match shapes to find the right fit for your individual shape. Discover other body shapes and which dress styles work best with our guide for dressing your body type.