7 Bathing Suit & Swimsuit Cover Ups You Already Own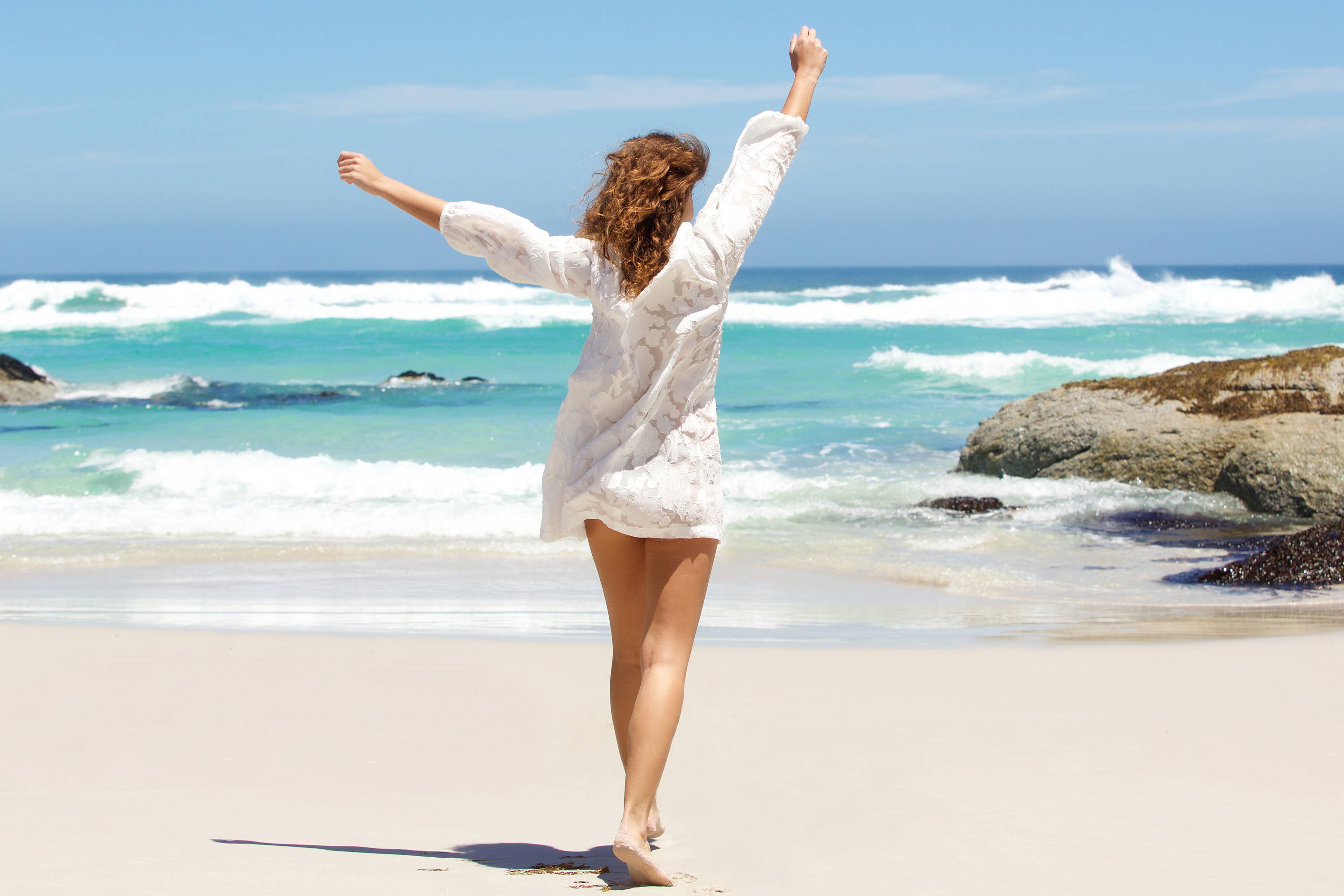 You are heading off on a summer adventure when you realize last minute that you don't have a swimsuit cover up. Not to worry, we have you covered as you probably already have the perfect bathing suit cover up sitting in your closet. Whether you are heading off to an exotic island adventure, cruise around the world or just an afternoon stroll at the beach chances are the perfect beach dress is already a part of your wardrobe. Keep reading to find the best swimsuit cover ups of the season!
Crochet lace beach wear says spending the day in the ocean and head off to enjoy a drink at the cantina. Soak up the sun in a great lightweight layer that keeps the sun off of you without making you too hot. Rock pool parties, beach parties and any other summer outings that you are looking forward to this season! Crochet lace is a must have trend for the summer and can be found in so many styles from dresses to kimonos to tops all perfect to rock and look fashionable in. Crochet lace styles are an easy breezy throw it on and easy to pack summer essential.
Crochet lace ensembles are versatile and can be worn as an all over crochet lace outfit or just crochet lace accents. Both are a trendy stylish look and are so much fun to wear. Our stylists suggest to have a few summer pieces in your closet of both styles.
---
2. Fashion Statement Prints
Looking for a whimsical swimsuit cover up or bathing suit cover up that is guaranteed to have all eyes gravitating towards you. Then, a bold fashion statement print beachwear is what you are looking for. Whether you want a boho chic resort wear look or a flowing beach cover up this effortless on trend beachwear is one that you will want to be sure to pack.
Since bold prints are a trendy style that we are seeing all over the runways for the upcoming season you can be assured that these amazing fun prints will be available in all different styles of beachwear. Whether you like to wear a traditional wrap or a flirty flowing long dress, vibrant prints in resort wear can be found everywhere including your closet.
---
Hand down the most comfortable style of beach wear is the swing dress cover up style. Swing dresses are a relaxed silhouette which offer the most comfort and look amazing whether you are wearing them over a bathing suit or just to walk along the beach.
Swing dresses are continuing to be a big trend this season and can be found in so many different styles. Whether you want a dress cover up with sleeves to protect your shoulders and arms from the sun or you are looking to rock a halter style dress cover up, chances are you will find your favorite style and color in a swing vacation dress can easily double as beach wear.
Women's beach cover ups dresses can also be worn on cruises, lunch on the boardwalk or just to lounge around your own pool. There are no rules when it comes to choosing your style or cover up so choose a style that is fun and will have you wanting to wear it over and over again.
---
There truly is no style out there that says "summer" or lets you know that warmer weather is around the corner like a romper. Since the romper tread is HOT again, this season be sure to add few to your summer wardrobe.
We love the look of the longer romper or maxi romper as it is sexy and carefree and shows off your legs in the front with an elegant look of a longer style in the back. In a high low romper you are showing off your great fashion sense while keeping your movements free which means this is a fun, flirty and whimsical style but it is also comfortable. Which, makes it a closet essential for the summer.
Another reason that this romper beachwear has become so popular is that you can pair with with so many different styles of shoes. Flats or sandals for casual wear, strappy sandals or wedges for going out and strappy heels or peek-a-boo heels for more formal events like dinner, girls night out or attending wedding events or a destination wedding.
---
We are OBSESSED this season with using gorgeous maxi dresses as beachwear. Have you seen all the amazing long dress styles this season? Wow! There are so many gorgeous styles that we honestly can't choose just one or two.
Truly a versatile style, we cant wait for the warmer weather to get here so that we can have an excuse to wear our favorite beachwear look. Head out to lunch with a beach tote in hand and already wearing your suit so that after a delicious meal and a few drinks all you have to do is find a lounge, park your towel and you are ready to soak up the rays.
When you are off to lunch, walking the boardwalk or enjoying a daytime adventure pair with sandals, a cute tote and bold earrings for a flirty and fun look. Lounge at the pool in a trendy casual lounge look with a wide brimmed hat to protect you from the suns rays. Transition for an evening look when you pair with with strappy heels or wedges and an evening clutch. From day to night we are in love with the maxi dress cover up!
---
Kimono's are a style that you can wear year round so be sure to invest in one that you love! During the colder months they can be layered with long sleeve top and pants. But, as the spring and summer approach watch out world because kimonos are on trend and taking over as a must have piece in your warm weather wardrobe.
There are literally thousands of styles of beach wear kimonos from sheer to fabric, lace to embellishments, maxi lengths to above the knee lengths. You will also find resort wear kimonos in every color of the rainbow.
You can wear kimono coverups over shorts and a top if you are wearing it out during the daytime. Use over a swimsuit to lounge at the pool or lay out on the beach. If you want to wear it for a night out on the town, pair with your favorite dress or top and pants and strappy heels for a sexy look you will love and help keep you warm on those chilly summer nights.
---
7. Off The Shoulder Dress Coverup
A essential coverup for any sunny day excursion is the off the shoulder dress coverup. Let your Your inner beach goddess shine in this trendy beach-to-street style.
An effortless swim style that is a must have when you are packing for vacation. Whether you are heading out to a pool party or a trip to Vegas an off the shoulder dress swimsuit coverup is a must have.
Your summer wardrobe is not complete until you have a few of this gorgeous style. A long sleeve off the shoulder coverup can keep you warm when the wind picks up and then easily transitions to a night time style when you pair with with statement jewelry, your favorite evening clutch and wedges. For your day time adventures pair with sandals, a beach tote and a large brimmed hat to protect your shoulders from the sun.
---
Women's Swimsuit Cover Ups & Cute Bathing Suit Cover Ups
Our stylists advice when it comes to shopping for swimsuit and bathing suit cover ups " Get out of your comfort zone when it comes to shopping for beach wear, have fun, and try new styles."
- Ledyz Fashions -
Whether you are trying to stay within a budget or you just are looking to add a unique bathing suit cover up to your wardrobe, browse your existing closet before you go and purchase something new. Many times we don't think to check our closest especially dresses or kimonos for beachwear. But, some of the cutest styles that we have seen on the beach and lounging around the pool are in fact flowing maxi dresses, lace detailed kimonos and short whimsical dresses. Women's swimsuit cover ups and cute bathing suit cover ups are a essential part of your vacay wardrobe and chances are that you will be wearing these styles a majority of your stay so invest in a few styles that you are in love with and can wear over and over again.
Another advantage to using dresses or kimonos for beachwear and/or resort wear is that they are easy to transition to wear to lunch, dinner, day excursions or even a night out. Adding bold fashion statement jewelry and your favorite handbag paired with flats or sandals takes beachwear to a casual ensemble perfect for eating out in the morning or afternoon or any day trip that you have planned. Dress up your ensemble and go from lounge wear to semi-formal wear by pairing your vacation ensemble with statement jewelry, an evening clutch and wedges.
With airlines charging so much for additional luggage it has become an essential part of traveling to have versatile pieces that can be worn multiple times. If you don't have the beachwear or resort wear that we have mentioned, now is the time to stock your wardrobe with these summer wardrobe essentials.
---
A UNIQUE TRENDY ONLINE WOMEN'S CLOTHING BOUTIQUE
What To Wear To A Spring Wedding?
Shop Graduation Dresses At Ledyz Fashions Now!